Main content starts here, tab to start navigating
TRADITIONAL FAMILY-STYLE ITALIAN
Family owned and operated, Pietro's No.2 has served traditional family-style Italian and select favorite American foods since 1962. Whether you're in the mood for pizza and Pasta, or our famous steak sandwich, Pietro's No.2 serves it fresh from our kitchen seven days a week.

For parties up to 100, reserve our banquet facilities, or for a more intimate dining experience, seating on our romantic outdoor patio, complete with colorful umbrellas and a decorative fountain. If you prefer to dine at home, Pietro's No.2 also has take-out or delivery options. Any way you like it, Pietro's No.2 can create home-style Italian and American favorites for you.
Press & Reviews
Vacaville Reporter: "If the menu at Pietro's No. 2 in Vacaville says "garden fresh" you better believe it. Some of the zucchini in the minestrone, the peppers in the Pasta Sauce, the oregano and Basil Seasonings were grown in the home garden tended by Theresa and Gino Monteleone." - Read Entire Review

Vacaville Magazine: "In keeping with the tradition of reviewing some of Vacaville's historic restaurants, we were off to Pietro's No. 2 for dinner. Pietro's No. 2 is owned and operated by Teresa Monteleone and her son, Joseph. ... The Constatino's have been coming for 37 years and perhaps now many new families will make this restaurant a tradition also. Buon Appetito!"
Read Entire Review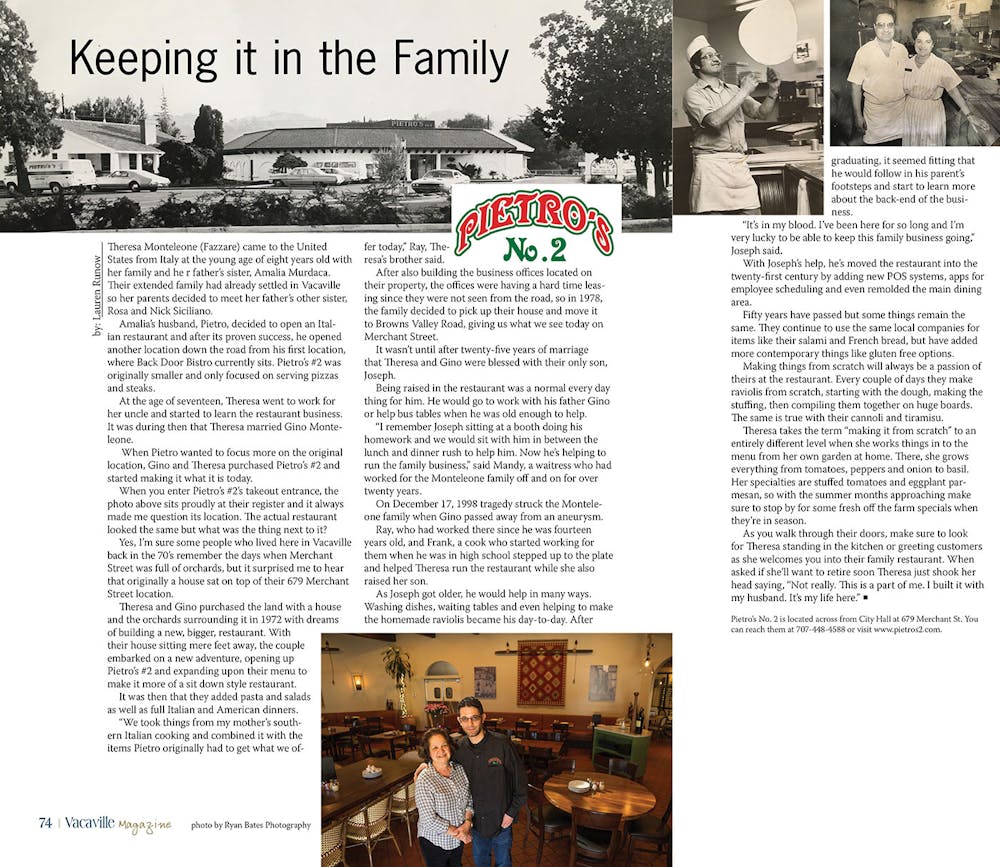 Pietro's No.2 has been in business a long time, and over the years we have received many positive reviews of our food and service. We appreciate the many thoughtful comments our dining guests have written about us, and for the ones not completely satisfied we hope you'll try us again so that we will have the opportunity to exceed your expectations.